Interview with WS President Mr. Kim Andersen
Publisher of Yacht Russia Vasily Senatorov made an exclusive interview with president of World Sailing Mr. Kim Andersen, asking questions that concern the entire sailing community.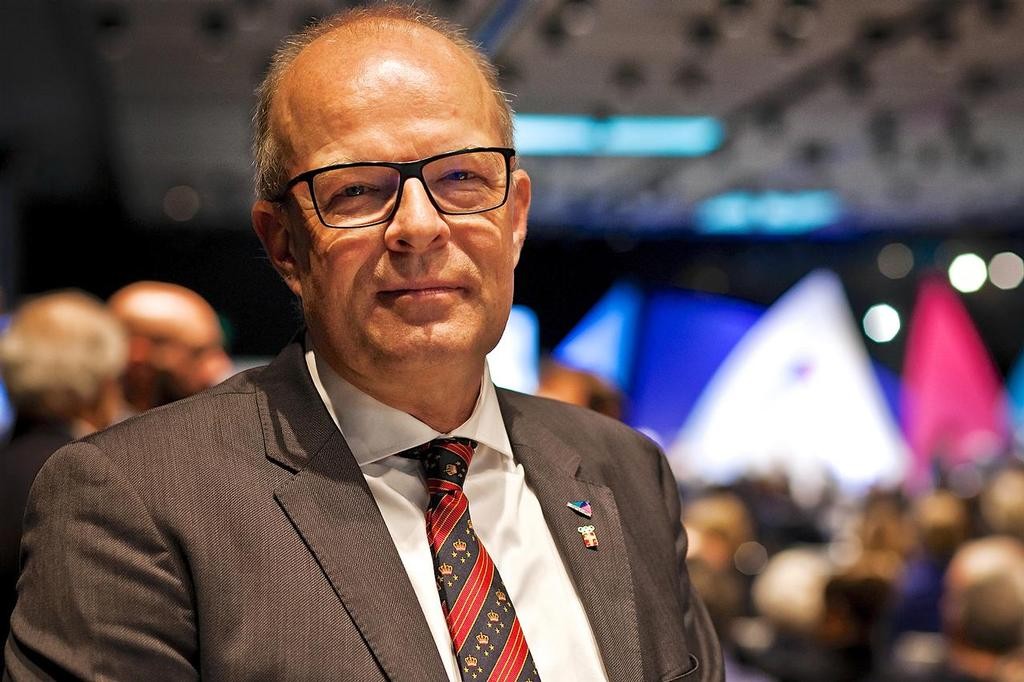 Dear Mr. Andersen,
It seems that the world of sailing was caught by an ideal storm. First ever OG were postponed for a year that has a huge impact on athletes and event organizers, on the financial aspects of the major sports federations, on the sports in general. The pandemic came upon the problems that touched WS already before: lack of proper financing, dismissal of GM, unsuccessful attempt to reconstruct the federation itself and attacks from some individuals blaming you personally for the current situation. The Russian sailing community is very much interested in all the aspects of this situation and your plan for WS to come out from the unfortunate circumstances.
VS: And the first question I want to ask: as you decided to candidate for the position of WS in 2016 how deep was your knowledge about the financial situation, including obligations and commitments of the federation itself and its donators? With other words, what "farm you inherited" from your predecessor who was also your competitor at the election in Barcelona? Can you tell us what was the situation with the head office in Southampton. Why you made the decision to move to London? You are blamed by foes that the high rents is one of the reasons of current financial problems. Could WS not stay in Southampton? Did all the sponsors fulfilled their obligations towards WS after 2016? Did you know beforehand the content of the contracts with them?
KA: First of all, I think it is important not to mix the challenges that World Sailing is facing with the misinformation & politics being played up by a group of opposition. Unfortunately, there are certain individuals who do not accept decisions made by the World Sailing Council and Annual General Assembly and they are now using the impact of the COVID-19 pandemic situation to create uncertainties and doubts within our sport worldwide.
When I was elected with the new board in November 2016, the only information available to us then was the audited accounts for 2015, a forecast for 2016 and a budget for the coming quad 2017 – 2020. During the second quarter of 2017, uncertainties on the budget assumptions regarding commercial income where already being questioned. But the board was assured that they would come to light. However, over time these contract expectations where not fulfilled, and the acquisition of new sponsors was taking a longer time to realize than anticipated from the budget assumptions. At the current rate, it was looking like there could be a 3 mil GBP loss in predicted budget for the quad. While the board was working to deliver according to the originally agreed strategies and plans, it quickly had to make savings in order to reduce the budget deficit. For 2020, the "final year" of the quad, we had made the necessary budget cuts and the last financial challenge we had to overcome was a missing cashflow of approx. 0,7 mil GBP for the first nine months. It is important to note that during the whole period the board kept the council informed and also presented the annual accounts for the previous year in May (in previous years the accounts were provided only in November) in order to be transparent and present the results in a timely manner.
The COVID-19 situation was unprecedented and meant that with the Tokyo Olympics being postponed, World Sailing like any other International Olympic Sports federation, would be missing out on the Olympic funding to be received after the originally planned Olympics in 2020. The board of World Sailing established a task force working closely with the senior management team to manage the difficult situation. It has been a lot of work and I am very proud of what has been accomplished by the board and our staff to communicate with our members, implement safety measures around COVID-19 and to manage the financial situation. Due to our close and strong relationship with the IOC, we have also received the financial support we asked for that will enable us to continue to develop our great sport and to deliver a high-quality Olympic event in Tokyo next year - this makes everything we have done during these times worthwhile.
For now, judging the previous period 2012 – 2016, it's clear that there was a lot of mismanagement. From the administration being without daily leadership for the majority of the quad, to the happenings around the Sailing World Cup, to not fulfilling agreements made with hosts Dubai and Abu Dhabi, to implementing a sponsorship deals based on a personal relationship instead of a WS partnership, etc. At the time of the election in 2016 none of the new board members had any knowledge on the underlying finances and contracts with sponsors. The only positives that come to mind from the previous quad was the establishment of the Emerging Nations Program – but even that was put in jeopardy due to the ambiguous sponsorship agreement.
The relocation of the head office of world sailing has recently come under question; however, as I already informed all of our member national authorities, the topic of relocation has been one that has come up many times over the years. In fact, we had a satellite office in Lausanne in order to have some presence in the Olympic Capital and be closer to the Olympic family, but it was empty most of the time. So, the previous board opened and closed it. Knowing that, it is quite interesting to hear when some people say that nobody wanted WS to relocate and it was the will of the new board – that is simply incorrect! We were acting on the information presented by the previous board and former CEO at the AGM in 2016 (including budget assumptions). The new board had no reason not to believe in the budget assumptions presented and plan accordingly.
Based on the information provided, the lease of the former World Sailing Headquarters was coming due. The situation allowed the Board to consider the optimal location for the operations of World Sailing for the next decade, recognising that any change would provide opportunities but also carry some risks. The following criteria was used to evaluate the responses from the various locations: proximity to an international airport, attractive to quality/international employees, a stable tax and legal regime, maintaining key staff, the relocation and redundancy costs, cost of the office space. Market research and analysis was considered in detail on the following locations, another office in Southampton, Winchester, London, Geneva, Monaco, Lausanne, Barcelona, Valencia. After evaluation the board unanimously supported the relocation to London.
VS: You inherited also some top-management with long-term contracts. When and who hired this staff? What changes are in sight?
KA: The organization had, in the period leading up to the 2016 election, been undergoing many changes including the fact that the secretary general was released by the board elected in 2013, after a long hiring process a new CEO was hired in 2015 but released after a relatively short period the same year, then a new CEO was hired starting January 2016 who then hired in a new Commercial Director shortly after. The new top management in World Sailing was unexperienced with sailing but had experience within sport management and the Olympics.
Having gone a long time without a proper management structure in place, we had some major organisational challenges to deal with after the election in November 2016. Unfortunately, it was not until after being elected that we found out exactly the challenges inherited. It has been a difficult road, but we are seeing some very good outcomes so far, including having just hired a new CEO with a successful sailing and management track record, a clear organisational strategy, a new financial plan, a knowledgeable and experienced staff, etc. It has taken us some time to deal with the challenges of the past, but we are getting there and I am very positive that there are more good things to come for Sailing in the future.
VS: Now we and our readers understand more that the image of WS in 2016 was much more glossy then the real situation. When did you understand the volume of the problems and what did you decide to do? What was the main target of WS engagement after 2016? What are the achievements of WS your proud of?
KA: As you would see from the minutes from the first board meeting in December 2016, we had a lot of issues on our hands regarding the structural organization, location and deliveries to IOC. The financials presented where not a concern at that time.
As a leader, I have always focused on delivering according to the strategy agreed, this is why the board agreed to create a strategy for World Sailing. And this started with a survey to all of MNAs – we wanted to understand the needs of our members and get their input. For years there was no dialogue between World Sailing and our MNAs, as an organisation we held events and supported with some development, but we didn't really know what they needed. I wanted to ensure that they had a voice in this new strategy, so we engaged with each and every one of them creating an in-depth survey, followed by MNA Group meetings and discussions and analysis of all their responses.
At the Annual meeting in 2017, after compiling all the responses of our MNAs and having them provide their input into the direction of World Sailing, a strategy was created and presented. It was well received by the council as they fully supported the strategy presented. To create a strategy with our MNAs and for our MNAs, is probably one of the achievements I am most proud of.
Another one is working on modernising our sport. There were quite some challenges in having to operate a new regulation 23 - evaluating and choosing Olympic events and equipment. We were all working within this new regulation for the first time, and with the process being delayed by the previous board, the political tensions and discussions where immense! But the council showed a lot of courage when supporting major changes, allowing our sport to focus on the future when selecting a new slate of events for the Paris 2024 Olympics including the diversity of sailing, selecting three new mixed events embracing gender equality. I believe that this is a very positive step forward for the expansion of our sport, I am looking forward to seeing this come to life at the 2024 Olympics.
Setting a new direction is always difficult, World Sailing has a great legacy, but this does not mean that we should not continue to develop, or developments should only be focused on equipment! Legacies are kept alive by continuing to develop and looking to the future, the World Sailing board has a lot to be proud of and we have made some clear deliveries under my leadership. Here are some examples of the progress thus far:
Para Sailing: The 2019-2023 strategy for Para sailing, which shows how World Sailing will continue to grow, promote and develop all Para disciplines worldwide. Para sailing has a unique capacity to include people from all ages and abilities. Alongside encouragement to MNAs to make Para sailing more inclusive and welcoming at all levels domestically. Positive steps have been made over the past few years with the Para Sailing Development Programmes (PDPs) to increase participation by 30%.
World Sailing Strategy: As mentioned a World Sailing Strategy was launched based on all the input from MNA`s with four main Goals for Inspiration and participation, Membership and Governance, Sport Integrity and Leadership in sport. All the goals have defined strategies and measures in place.
Gender balance and Youth engagement: In sailing, we have put gender development discussions at the forefront of our sport, and our gender-balanced 2024 Olympic program sends a clear message to young and future sailors. It is encouraging to see so many initiatives materialising and programs launched worldwide on these issues – as said by UN Secretary Ban Ki-Moon: "Gender equality is the responsibility of all people." At the end of last year, the World Sailing Trust published the Women in Sailing Strategic Review, a wide research-based project which explored gender balance in the sport. Another important challenge for sailing is attracting and retaining youth - not one size fits all and again it is good to see the ideas and different programs already happening in our regions and countries, across cultures and religions.
Olympic Event: The new slate of events and equipment for the Paris 2024 Olympic Games truly showcases the diversity of sailing. Sailing will have equal gender representation and true universal representation of the diversity. The line-up will include Kiteboarding, Foiling Windsurfing, Single and Doublehanded Dinghies, Skiffs and an Offshore Keelboat. This will showcase sailing, and its development, in the best possible way as there will be more nations participating in Olympic qualifiers than ever before, highlighting the universality of sailing and adding real value to the Olympic programme.
Media Growth: World Sailing's media outreach continues to engage new and existing audiences. Across all WS platforms the growth from 2016 to 2019 has been impressive. At the end of 2017, WS Facebook views figure was at 2.8 million. Through engagement with major events, classes and MNAs, focused on telling compelling stories through video and now achieved 8.1 million views – surpassing the last two years together. Viewership across all platforms combined is in excess of 15 million views and our Instagram had its biggest period of growth in 2019 with 25k new followers. The engagement with SAP for visualizing the sport to sailors and sailing fans showcasing the Hempel World Cup Series broadcast output from 2016 to 2019 has increased from 20 to 60 channels with more than 15 million unique viewers watching our output globally.
eSailing: WS has just completed the second year of the eSailing World Championship, which has been a great success for the sport. Through the long-term platform partnership with Virtual Regatta, there are now 1.4m unique eSailing players, with 320k playing the inshore game, which is expected to further grow to 500k players in the coming months. World Sailing has sailors, MNAs, classes and event organisers fully engaged with the core principles of the eSailing platform and its values, which is providing brilliant global exposure. Under the lockdown due to COVID-19 the World Sailing eSailing platform has shown a growth and reach superseding all expectations to sailors and created a new platform for youth engagement for our sport. The number of daily active users on Virtual Regatta Inshore has shot up from 5,000 at the start of the year to around 18,000-20,000, with a peak of 25,000 so far! WS has exciting plans ahead for 2020 and for maintaining the leadership role that they are playing in simulation eSports within the Olympic movement.
Sustainability Agenda 2030: World Sailing implemented a sustainability strategy being first mover amongst Olympic sports and recognised by UN and the IOC. A strong tool for engaging youth programmes and links to sponsors taking a constructive approach to environmental responsibilities. The WS Sustainability Agenda 2030 continues to grow and engage. World Sailing picked up two international awards from the IOC and Beyond Sport for the working being done in this field, highlighting World Sailing as leaders in Sustainability. Winning the awards also comes with significant funding to further our work as well as carbon credits to offset all of our emissions in 2019.
World Sailing Trust: The World Sailing Trust is a global charity established to support sailing in all its forms. They work to promote participation and access, support young sailing athletes, and safeguard our waters for future generations. The World Sailing Trust was set up to catalyse change around the world. This year WS has launched 4 exciting projects, 3 in marine health: educational resources on 6 topics in 8 languages, sailing club guidance and tools, and World Sailing Ocean Heroes online platform and workshop pilots. Earlier this year, the World Sailing Trust launched an independent Strategic Review on Women in Sailing.
VS: What must be done in the next future? What is your plan for overcoming the financial burdens? Do you still insist on the governance reform? What do you expect from that reform?
KA: There has been a lot of positive progress made in World Sailing these last years, our sport has a much stronger platform in the world of sports and inside Olympic family, and we are very proud of all of our accomplishments but of course there is still a lot to do.
But in order to continue making progress we all need to work together, unfortunately a small rogue group of "old guard" sailors are opposing the World Sailing Board and myself as President. The old guard have interests in keeping the status quo within sailing and are attempting to pressure the World Sailing board by starting using a series of smear campaigns against the President and board to keep old systems in place and stopping the development of our sport.
I truly think this is a shame, without progress our smaller nations and female sailors would not be afforded opportunities that they have today, our sport would not modernise and our fans would not engage as much as they do. I believe that our sport has so much to offer and going back to old ways of thinking will undo so much of the positive successes that we have achieved together.
Together with our MNAs, we have a clear vision, mission and strategy for World Sailing – one that includes the voices and ideas of our MNAs. We have a strong platform, and a great outlook for the future. Financially, we have made corrections during the past years to correct the "start" on false assumptions, you can clearly see this in the World Sailing accounts and we have been able to establish a new commercial platform with sponsors and the World Sailing Trust, so I am confident we will be able to keep the momentum going forward and continue to develop the financial potential of our sport.
And now we have hired a new CEO with a strong resume and a wealth of experience in our diverse sport. I am very confident that he will successfully lead and manage World Sailing in the coming quad. It's my intension to continue to support David Graham in doing so, in the best way possible.
As for the Governance reform work, a lot has been done which shows with great merits that we need a change of structure and that this change will benefit our sport. I am optimistic that this will come, especially as 94% of our 144 MNAs indicated that change is needed for bringing World Sailings Governance structure up to date.
The reform is about positively leading and managing according to the strategy approved by MNAs with a clear direction, momentum, and last but not least, clear goals. Once it is approved, it will help in many ways especially our processes. The current decision-making processes are holding us back, for example the submission process goes online to make timely and transparent changes. Also, the committee structure will be operating with clear mandates and a framework set by the strategy approved by the AGM. The new Governance structure is about the inclusion and engagement of all 144 MNAs around the world, making them part of World Sailing's deciding bodies: it's about developing our sport globally, and not only focusing on the Olympics. The proposed structure secures a platform consisting of two councils, one being the Olympic Council and one being a Participation & Development council, which will create a strong platform servicing the diversity of World Sailing and the many activities around the world.
VS: It seems, Mr. Andersen, that you are a hard nut. Your declared short time ago that you are going to fight for the second term of presidency. So you have to expect a situation similar the one four years ago with one important difference: this time you are the President of WS and hence exposed to the attacks of competitors. What is your motivation for it? Are you not tired to live and act at that uncomfortable situation?
KA: I don't see myself being hard but rather strong, and I believe that Sailing needs a strong leader now more than ever because the state of our sport has suffered in recent years and it has suffered at the hands of those who have criticized new ideas and progress in our sport.
"The old guard" doing their utmost to retain the status quo, keeping genders unequal, minimizing the role of smaller nations, not changing with the times, etc. Unfortunately, it is thinking like that which holds our sport back.
Many of the successful things I mentioned before which have only now been achieved have been issues for many years. Take for example our media strategy, despite World Sailing having a strategy for 14 years it was only implemented now because our modern management structure allowed it. And we are more successful than ever on social media!
There is still a lot more we need to accomplish at World Sailing, and it is my hope that after my next term that we see a new generation of sailors making decisions for how to develop our sport. That what keeps me motivated!
VS: What the next major meetings for World Sailing in the coming period and what about the AGM an election.
KA: End June we will have a virtual World Sailing Council Midyear meeting, to try and keep continuity and contact during the pandemic crisis. We have engaged all committee and commissions to report to Council and MNA presidents in order for everyone to be updated on ongoing tasks, but also on issues raised by the COVID-19 pandemic.
After the Council meeting World Sailing have arranged a Townhall meeting with MNA presidents for a dialog and a further update.
Regarding World Sailings Annual meeting and the election, the board has asked the Constitution and election committee for advice in case we cannot have our meeting as planed in Abu Dhabi end of October and need to have a plan B. The advice was a resolution for members accepting an electronic voting. We will be making the final decision on hosting the annual meeting as planned or plan B the first of August.